Health insurance is an essential part of our daily lives. It acts as a financial safety net that helps us to protect our hard-earned money during health emergencies. But for that, you need to understand the various insurance policies, select the one that is best for your needs and pay an annual premium to buy the policy. But, what if we tell you that you can get all the benefits of an insurance policy where you don't have to pay anything? Yes, you heard us right!
Let us introduce you to Group Health Insurance, where the employer bears the cost and the employee benefits. And this is not even the best part, recently the government of India made Group Health insurance mandatory for all employees working in an organization.
This is a part of our Group Health Insurance series, If you want to know about more Group Insurance in detail click here


Why Is Group Health Insurance Mandatory For Employees?
Let's get to the crux of it, Group Health Insurance was made mandatory last year by the Indian authorities. After the pandemic uprooted our daily lives, the government felt it was necessary to come up with such a mandate. As per a circular, issued on April 1st, 2020 by the Insurance Regulatory and Development Authority of India (IRDAI) –
Providing medical insurance for workers was made mandatory by the employer.
All industrial and commercial establishments were asked to put in place and follow standard operating procedures (SOP) keeping the pandemic in mind.
In the same circular, health insurance companies were directed to offer comprehensive insurance policies to either individuals or groups
The insurers were advised to devise health insurance products that are simple to understand and affordable in cost.
This Medical Insurance Policy offered by insurers should not only be provided for the present situation but will be continued for a lifetime.


What Is The Distinction Between Group Medical Cover & Employee State Insurance?
As an employer and as an employee, it is important to know the difference between Group Medical Cover (GMC) and Employee State Insurance (ESI). There are two major distinction between them –
If you are an employee below the wage limit of Rs. 21,000 or less, you can avail benefits of ESI.
On the other hand if you are an employee above the wage limit of Rs. 21,000 you will be covered under GMC.
In ESC, the employer and the employee both contribute to the Employee State Insurance Corporation (ESIC).
As per GMC, the policy premium is paid by the employer on behalf of the employee.
To know which type of insurance policy you fall in, you can reach out to your employer or the HR of your company.


Get your employees the best with Healthysure. 
Customizable and affordable corporate plans starting at ₹49


How Does The Employee Benefit From Group Health Insurance?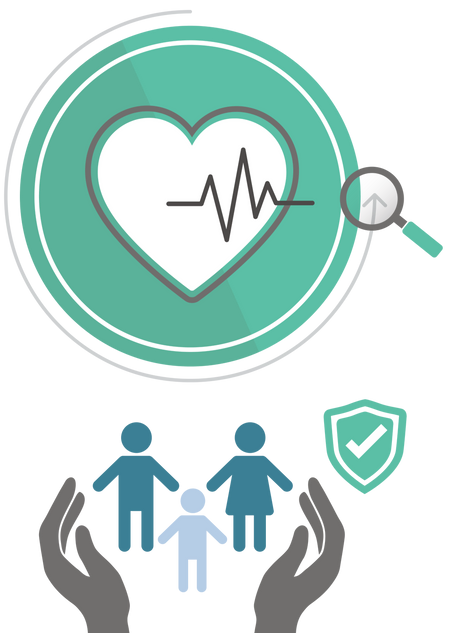 Some of the key employee benefits of Group Health Insurance are as follows –
Employees can enjoy the advantages of health insurance without paying the premium.
The quality of treatment provided is second to none.
Some Group Health Insurance not only covers individual employees but it can also be extended to the employee's family members.
Another employee benefit of Group Health Insurance covers people with Pre-existing diseases (PED) from Day-1 with little to no waiting time.
Group Insurance doesn't require members to go through any checkups for their Pre-existing diseases.
Many group insurance policies allow the members to convert them into individual plans as well with an extra cost.
All employees get a standard cover despite their age, position and stature in the company.


How Does The Employer Benefit From Group Health Insurance?
Group Health Insurance is not just beneficial to the employee, the employer themselves can gain certain advantages like –
Having a good Group Health Insurance can promote corporate wellness in the organisation.
The group insurance policies are a cost effective way of increasing employee retention.
It can also play a key role for employee motivation.
The employer can avail of the applicable tax benefits with the submission of a group insurance policy.
At Healthysure, we believe in informing before acting. So, now that we have armed you with all the information above. You can choose the best health care coverage for you and your corporate. Healthysure provides personalized comprehensive health insurance packages for your organization at affordable prices. To know more or to get a quote, please reach out to us.