This is part of HealthySure's "How well do you know your corporate Health Insurance benefits", read the first part of the series here.
In the second part of our series, we talk about Room-rent capping and Disease-wise capping
Room Rent Capping
Most corporate health Insurance plans have a limit on the amount you can claim towards room rent per day in a hospital. Usually, this limit is 1 or 2% of the sum insured per day. For instance, if your cap is set at 1% of your sum insured (say ₹ 3 lacs), then your room rent cap would be ₹ 3,000 each day.

How does room rent capping work?
Imagine you get hospitalized and you pick a room with a rent of ₹ 6,000 per day.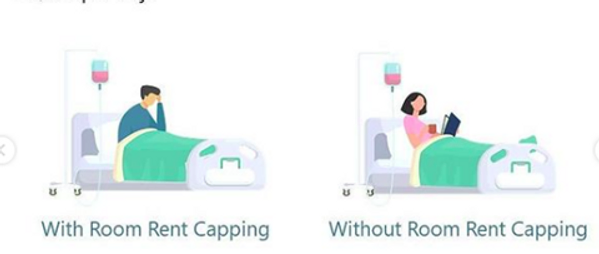 In this case, not just the room rent but the total hospital bill (excluding diagnostic fees, pharmacy, medical consumables) will be proportionately settled in the ratio of allowable room rent to actual room rent i.e., in 50% (3,000 ÷ 6,000) of hospital bill will be settled by the insurance company.
This is because associated medical expenses such as doctor's fee, surgeon fee, anaesthetist fee are charged differently for different grades of rooms. For example, these expenses would be lower for a shared room than a private room.
And insurance cos being aware of this practice, impose a capping on room rent to control their claim outflow and thus offer policies to corporates at lower premiums. Such room capping would discourage an insured to opt for a superior room category at the time of hospitalization.
HealthySure Pro-Tip It is recommended to opt for a policy with either No Room Rent Capping or Single Private AC. Beware that Single Private AC here refers to the most basic category of AC room in a hospital with single occupancy and attached lavatory and bathroom. In case of admission to deluxe or suite rooms, such policies shall also be subject to proportionate deduction.

Disease-wise Capping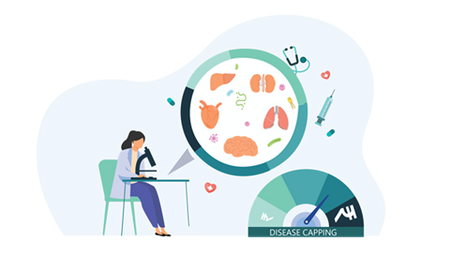 Despite the sum insured, health insurers have a feature called 'disease wise capping' which restricts the maximum payout for specific diseases. For instance, if cataract treatment is capped at a certain amount (say ₹25,000), then that is the maximum amount the insurance company will pay, irrespective of your sum insured.




Why does Disease Capping matter in your Health Insurance?
Suppose you have a sum insured of ₹5L and the cost for your cataract treatment is ₹35,000. Despite the amount being much less than your sum insured, the insurers will only cover ₹25,000 for you. This is because according to the terms of your policy, cataract treatments have a capping of ₹25,000. The differential amount, ₹10,000, will have to be borne by you.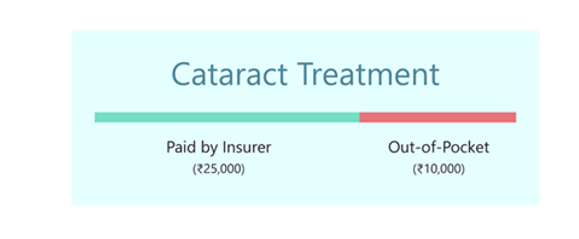 Common diseases attracting disease capping are appendix, cataract, gall bladder, hernia, hydrocele, piles, kidney stones, hysterectomy and joint replacement
It is essential that you know of these conditions beforehand to avoid last-minute surprises during claim settlement.



Healthysure Pro-Tip
Opt for corporate health insurance plans with higher or no disease-wise capping.
These aren't the only features of a corporate health insurance policy! In the upcoming post, let's explore some more features like co-payment, %sub-limit, waiting period and pre-post hospitalization coverage.

Read the third part of the series on Co-payments, waiting period, and pre and post hospitalization.

Follow our Linkedin page for more such updates on Healthcare and Insurance