Employee recognition is a key factor for employee engagement, motivation and retention. It can boost morale, productivity and performance of your team members. However, recognizing employees can be challenging when you work remotely or have a distributed team. That's why you need some tools to help you appreciate your colleagues and celebrate their achievements. Slack is one of the most popular communication platforms for remote teams. It allows you to chat, share files, video call and collaborate with your co-workers. But did you know that Slack also has a variety of apps that can help you recognize your employees? These slack apps can help you send praise, rewards, feedback and more to your team members.
In this blog post, we will review the top 15 employee recognition apps for Slack in 2023. We will compare their features, pricing and ratings to help you choose the best app for your needs.
The slack app list
Friday
Friday is a comprehensive app that helps you build a positive culture and improve communication in your remote team. It allows you to send kudos, set goals, run icebreakers, conduct async meetings and more via Slack.
Friday's Features:
Kudos: You can send public or private praise to your colleagues via Slack using emojis or custom messages. You can also see a leaderboard of the most appreciated people in your team.
Goals: You can set personal or team goals and track their progress via Slack. You can also get reminders and updates on your goals.
Icebreakers: You can start fun conversations with your team members via Slack using icebreaker questions. You can also create custom questions or use templates.
Async Meetings: You can run asynchronous meetings via Slack using templates or custom agendas. You can also get summaries and action items from your meetings.

Friday's Pricing:
Free: You can use Friday for free for up to unlimited users with limited features.
Pro: You can upgrade to Pro for $6 per user per month (billed annually) or $8 per user per month (billed monthly) with unlimited features.

Friday's Ratings:
Friday has a rating of 4.9/5 on ProductHunt

WorkTango
WorkTango is an app that helps you motivate and encourage your employees by matching meaningful recognition with meaningful moments and milestones. It allows you to send personalized rewards, feedback and surveys via Slack.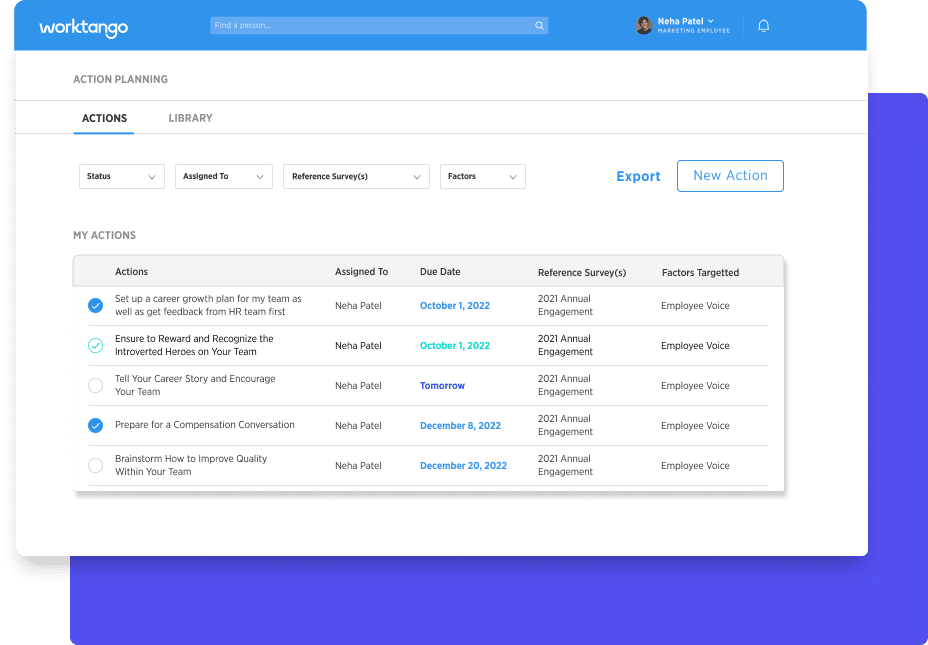 WorkTango's Features:
Rewards: You can send customized rewards to your employees via Slack based on their achievements, birthdays, anniversaries and more. You can also choose from various reward options such as gift cards, donations or experiences.
Feedback: You can collect feedback from your employees via Slack using pulse surveys, polls or open-ended questions. You can also analyze the feedback data using dashboards and reports.
Surveys: You can measure employee engagement, satisfaction and performance via Slack using surveys. You can also benchmark your results against industry standards and best practices.

WorkTango's Pricing:
WorkTango does not disclose its pricing on its website. You need to request a demo or contact them for a quote.

WorkTango's Ratings:
WorkTango has a rating of 4.9/5 on Capterra with 124 reviews.
WorkTango has a rating of 4.5/5 on G2 with 512 reviews.

HeyTaco
HeyTaco is an app that helps you build stronger and happier teams by sending tacos as tokens of appreciation to your colleagues via Slack. It also helps you increase employee engagement and some friendly competition with leaderboards.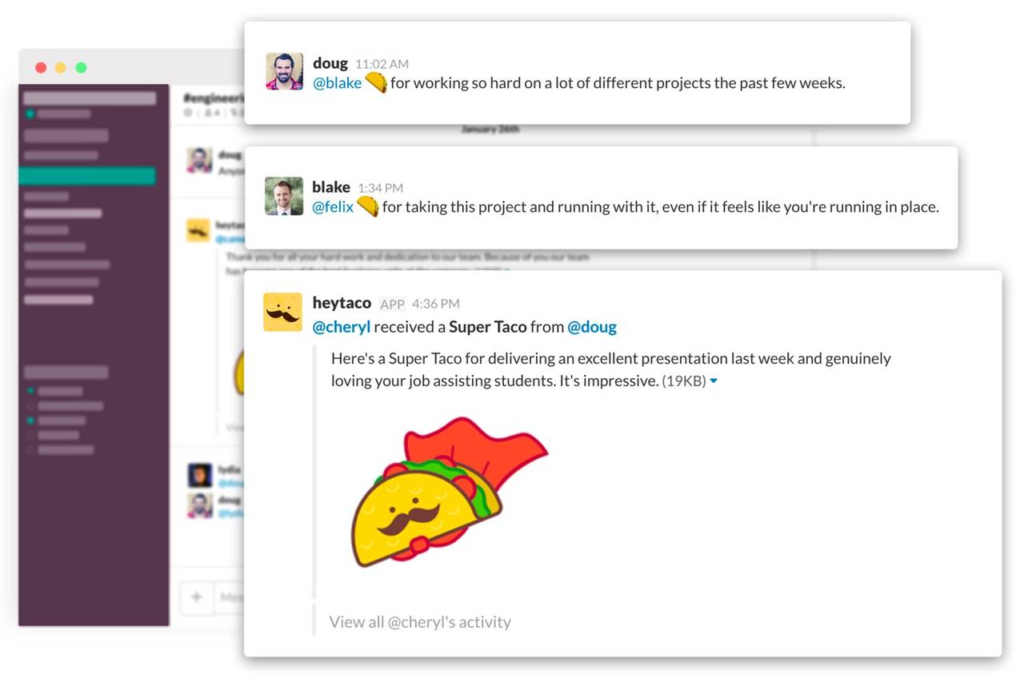 HeyTaco's Features:
Tacos: You can send tacos to anyone in your team via Slack using emojis or custom messages. Each person has a limit of five tacos per day to give out.
Leaderboards: You can see who are the most appreciated people in your team based on the number of tacos they received or gave out via Slack


HeyTaco's pricing:
Flat rate of $3 per person per month

HeyTaco's ratings:
4.8/5 on G2 with 324 reviews
But are greetings enough? 🤔
Show your employees that you care, provide them with the best-in-class benefits with Healthysure

Leaderboard
Leaderboard is a Slack app for tracking your office games. You can challenge your co-workers for a game of Mario Kart, Ping Pong, Table Football and when you're finished playing, report your score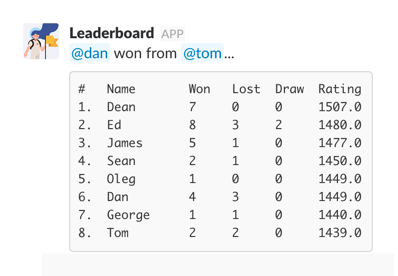 Leaderboard's features:
Get live alerts of match results for every match played in your team
Record new matches directly from Slack with the /report command
View the leaderboard by using the /leaderboard command


Leaderboard's pricing :
The app charges $7.5/month for 8 users

Disco
Disco is a Slack app that helps build engagement and enable value-driven work through team appreciation. You can nominate your teammates for specific values for better recognition.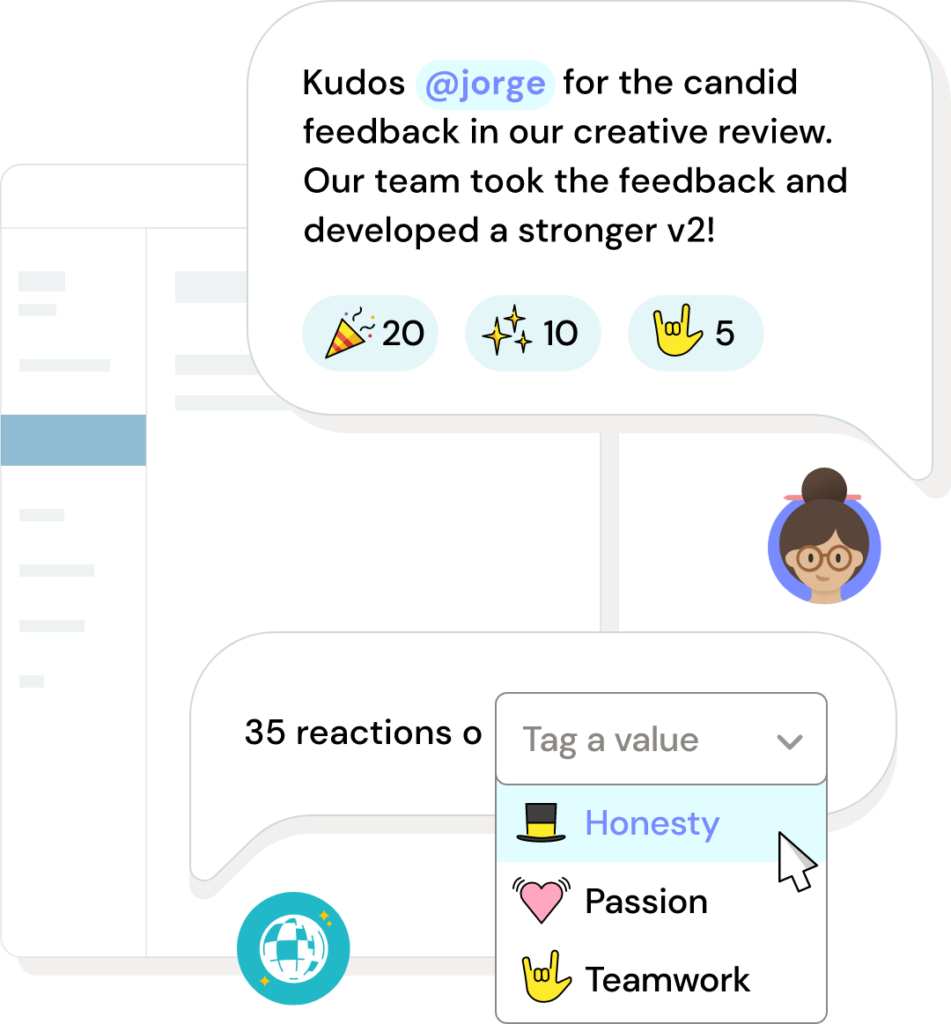 Disco's features:
Recognize people in real-time when they live your values
Uncover trends and metrics on values usage
Give kudos, custom compliments and take pulse surveys with this single slack app.

Disco's pricing:
Disco has a business plan of $3/month per employee for up to 500 employees (billed annually).

Disco's ratings:
Disco has a rating of 4.7/5 on G2 with 17 reviews.

Bonusly
Bonusly is a Slack app that helps you celebrate everyday contributions and key milestones, automate time-consuming HR admin processes, incentivize participation in company initiatives, and offer digital reward options for everyone. 87% of Bonusly users participate in recognition at least once a month and customers that integrate Bonusly with Slack see 5 to 10% higher participation rates.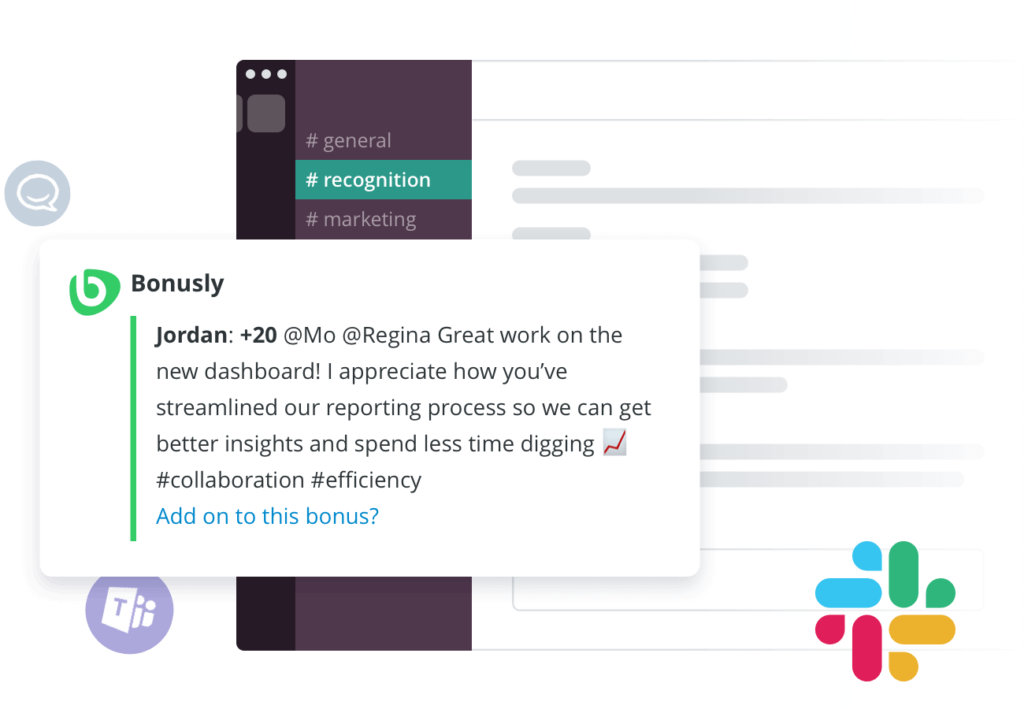 Bonusly's features:
Celebrate everyday contributions and key milestones
Automate time-consuming HR admin processes
Incentivize participation in company initiatives
Offer digital reward options for everyone

Bonusly's pricing :
You can buy the app at a starting price of $3/user/month

Bonusly's ratings :
Bonusly has a rating of 4.8/5 on G2

HiThrive
HiThrive is a Slack app that develops next-generation employee recognition solutions to reinforce a culture of appreciation. It provides easy and impactful recognition for every use-case.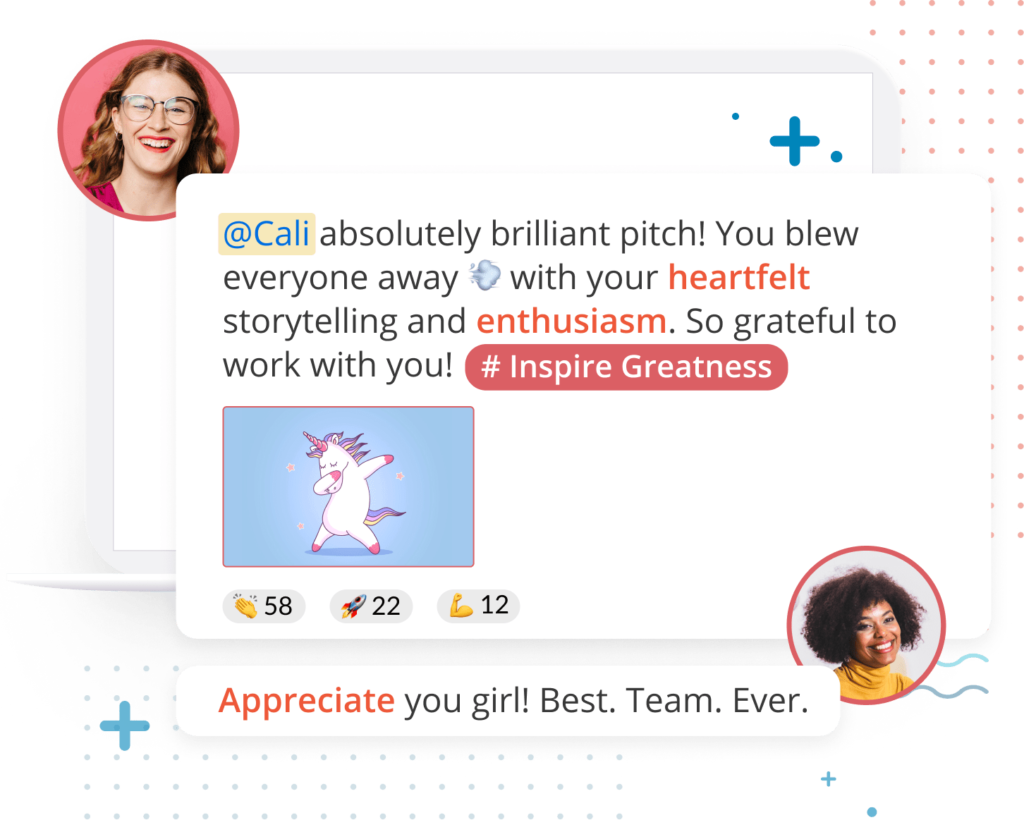 HiThrive's features:
Recognize achievements
Celebrate milestones
Peer-to-peer shoutouts
Automate birthday and service anniversaries
Run peer nomination campaigns

HiThrive's pricing:
You can get started with HiThrive for as low as $1.50/user/month

Birthday Bot
The name explains itself, Birthday Bot is a Slack app that helps you keep track of office birthdays and anniversaries. It is trusted by over 36,000 companies using Slack worldwide.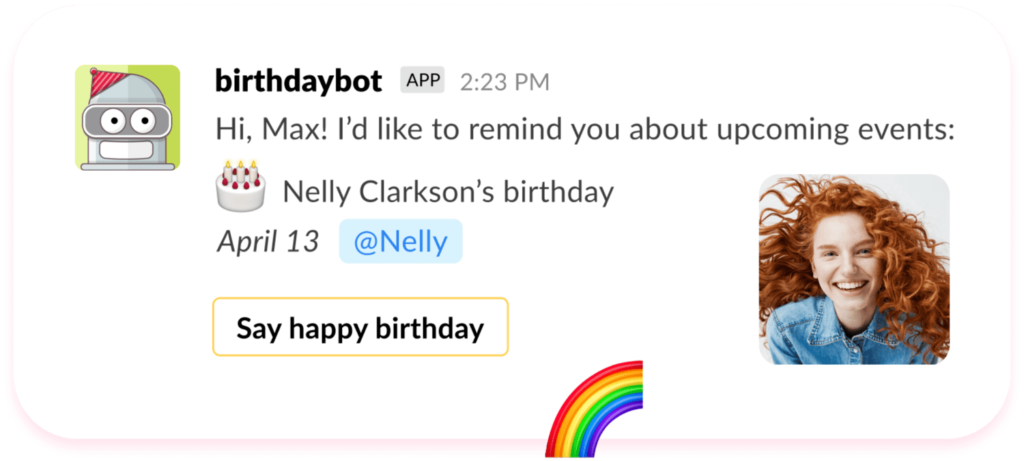 Birthday Bot's features:
Keep track of workplace birthdays and anniversaries
Use a ready-made birthday card pack or create your own
Configure reminders and notifications or mute them
Pick the perfect gift with wishlists that users can share with BirthdayBot
Sync with Google or Outlook Calendar to see all the dates on a calendar view

Birthday Bot's pricing:
Birthday Bot has a free plan that guarantees you up to 30 birthday congratulations per year in your workspace. The Standard plan costs $0.60 per active user/month (billed monthly) or $0.48 per active user/month (billed yearly)

Birthday Bot's ratings:
Birthday Bot has a rating of 4.5/5 on G2 with 63% 5-star ratings

Scorebot
Scorebot is a Slack app that gamifies the chat experience by assigning point values to emojis and tracking reactions to Slack posts.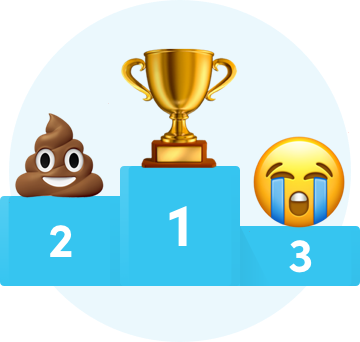 Scorebot's features:
Assign point values to emojis and track reactions to Slack posts
View your office leaderboard and earn your right to brag. As the homepage says : Engage your team with a little healthy competition.
Gain insight into your office engagement

Scorebot's pricing :
Try out the free plan, or buy the pro plan at $39/month

Karma
Karma is a Slack app that helps people say 'thank you' more often and connect with each other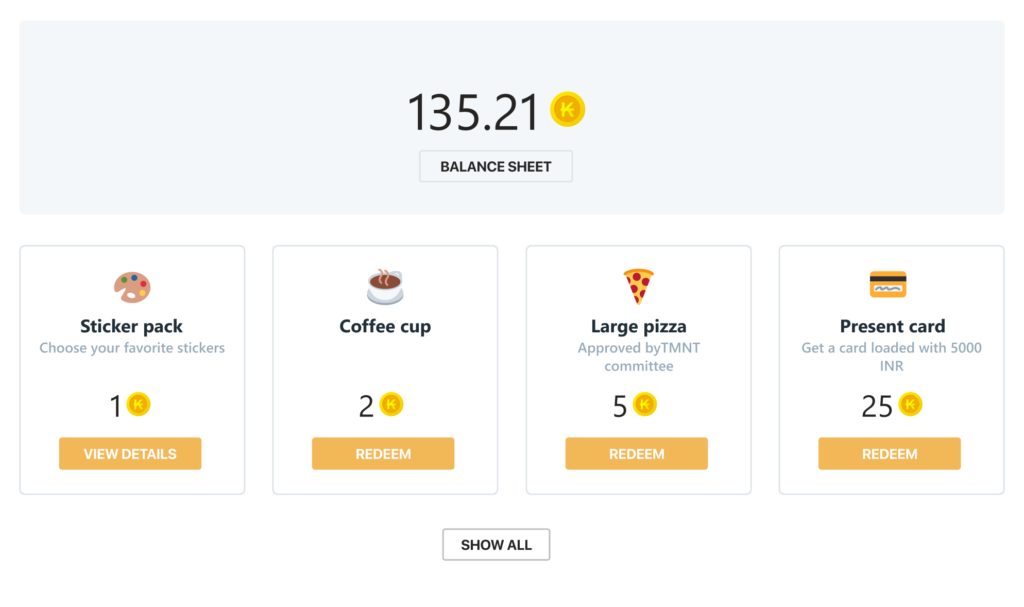 Karma's features:
Share micro-feedback instantly
Set real-life perks and automated rewards
Engage with your team and gain valuable insights

Karma's pricing:
Plans for small teams start at $25/month, but do not worry, you also have options to use free plans.

Karma's ratings:
Karma has a rating of 4.9/5 on G2 with over 31 reviews

GreetBot
GreetBot is a Slack app that helps you welcome new members of your Slack workspace. It provides personal and effortless team onboarding for Slack. In a few easy steps, it helps you make your colleagues, collaborators, customers, and community members feel welcome and informed when they join your workspace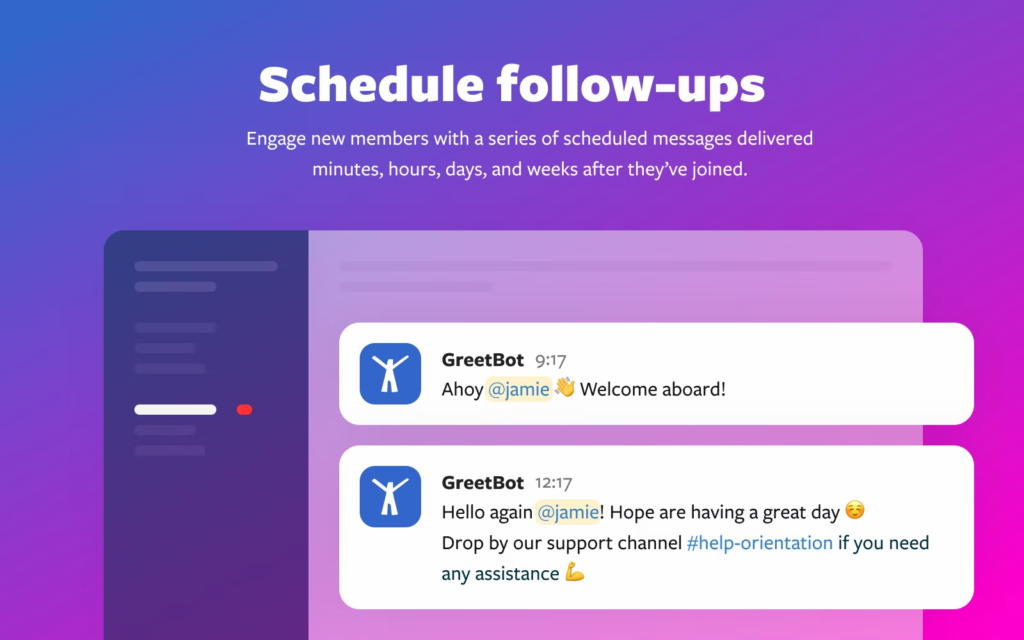 GreetBot's features:
Give directions and share resources: Share helpful links to #channels, websites and documents or use @mentions to highlight key people.
Greet in private or in public: Greet new members privately via direct message or publicly in a channel of your choice.
Schedule follow-ups: Encourage connections and view the latest activity.

GreetBot's pricing:
Starter plan: Free for groups and communities.
Plus plan: $49/month after a 14-day free trial.

Kudos
Kudos is a Slack app that allows you to give and receive recognition messages in seconds – right from your Slack channels. It helps create an inclusive work culture by allowing peer-to-peer recognition. Kudos is an online employee engagement and culture platform that embraces the power of social software to help organizations share meaningful value-based recognition to create an irresistible workplace culture.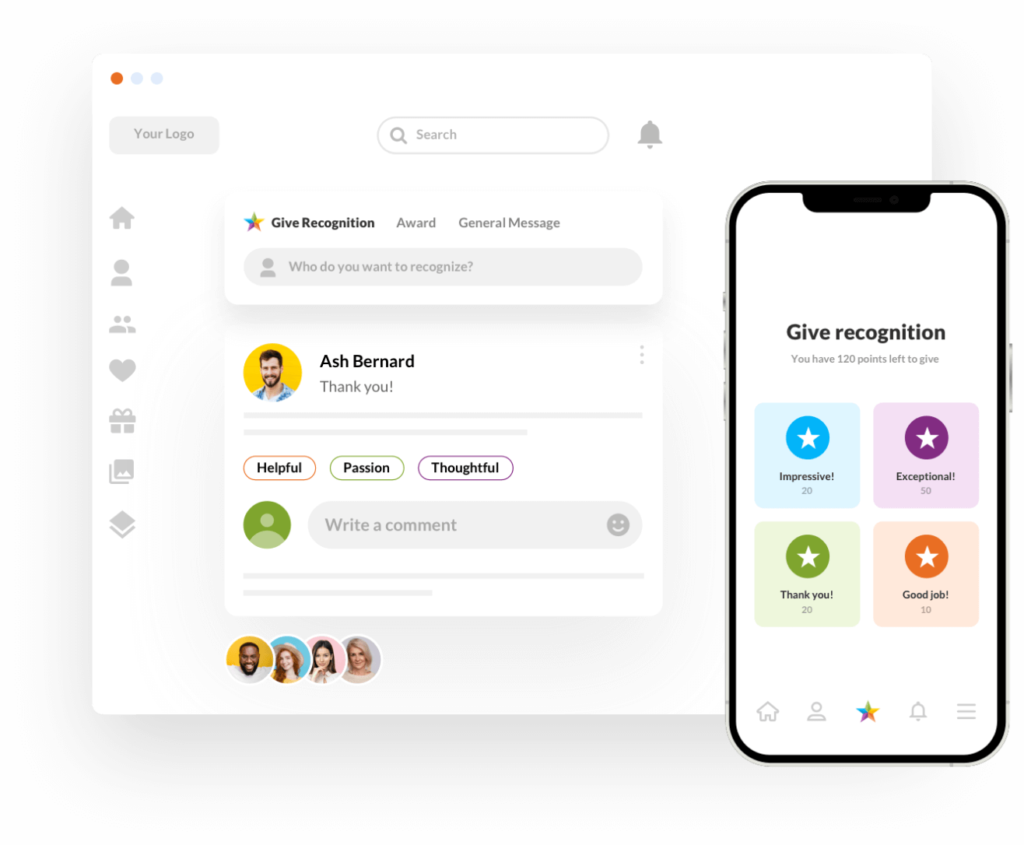 Kudos' features:
Real-time peer-to-peer feedback loop: Give recognition, badges, coaching, and mentoring.
Integration with other apps: Easily integrates with your apps.
Analytics dashboard: Gives you in-depth insight into team morale.

Kudos' pricing:
Pricing depends on the number of users and the length of the contract. You can know more about this by requesting a demo from their site.

Kudos' ratings:
G2 rating: 4.8/5
Capterra rating: 4.8/5

BucketList
BucketList is a rewards and recognition platform that motivates employees to grow, thrive and be more productive by helping them achieve personal life goals. It connects your company's BucketList site to Slack to make it even easier for employees to recognize each other – and achieve their BucketList goals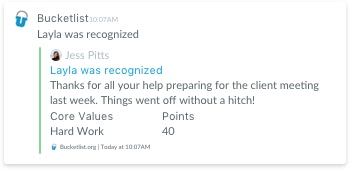 BucketList's features:
Recognitions show up in Slack channel: Keep up on the latest accomplishments of your teammates.
See when teammates complete a goal: Everyone will know when team members accomplish a personal goal from their BucketList
Detailed reporting: Understand the impact on the personal lives of your employees and the bottom line of your company

BucketList's ratings:

Zonka Feedback
Zonka Feedback is an Employee and Customer Experience Management Software that equips companies with a robust tool to set up custom surveys and feedback forms, distribute them at various touchpoints, view real-time survey responses, get in-depth one-touch reports and take action to close the feedback loop. With Zonka Feedback's Slack integration you can send your team surveys directly in Slack. You can choose which surveys to distribute to Slack Channels and Slack Users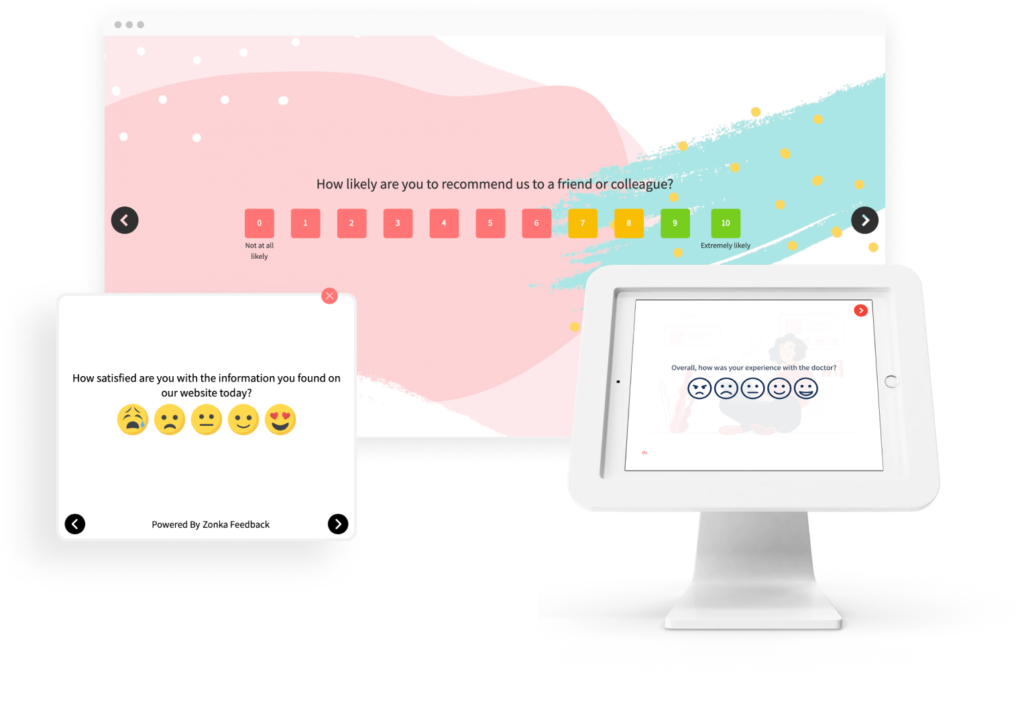 Zonka Feedback's features:
Send your team surveys directly in Slack: You can choose which surveys to distribute to Slack Channels and Slack Users
Real-time alerts: Set up real-time Email Alerts, Slack Notifications to loop in your teams when a response is captured
Quick setup: Quick to Setup, Easy to Use – Designed for Customer & Employee Feedback.

Zonka Feedback's pricing:
Zonka Feedback has 5 pricing editions, from $49/month to $199/month. A free trial of Zonka Feedback is also available.

Polly
Polly is an engagement app purpose-built for Slack, Microsoft Teams and Zoom Apps. Polly helps internal teams of all sizes make smarter, data-driven decisions, instantly. It's built to work in Slack. Simply type /Polly in any channel and Polly will guide you through the rest.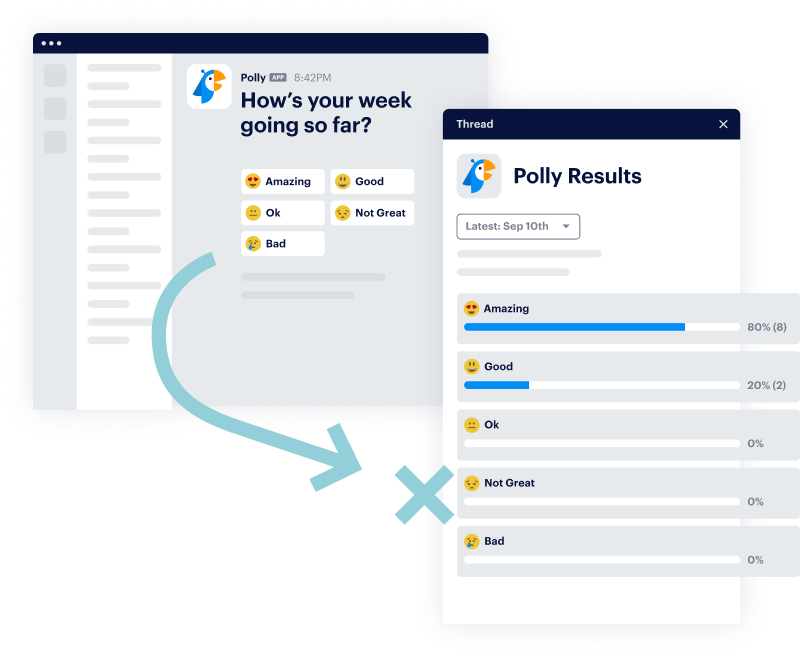 Polly's features:
Send single or multi-question pollys to your team for instant response.
Pulse and Engagement Surveys: completely native experience in Slack.
Standups: Quick and easy async check-ins for agile teams.

Polly's pricing:
Polly is free to use for teams of any size, forever. Premium plans are available for upgrade! The Pro plan is just $19 per month.

Polly's ratings:
Worth the money?
Employee recognition is an important aspect of any successful business. It helps to boost morale and motivation among employees by acknowledging their hard work and contributions. When employees feel appreciated and valued, they are more likely to be engaged in their work and perform at a higher level.
Investing in employee recognition apps for Slack can be a worthwhile investment for companies looking to improve employee engagement and satisfaction. These apps provide an easy and convenient way for managers to recognize their employees' achievements and show appreciation for their efforts.
While some of these apps might be providing very simple services like greeting team mates, keeping scoreboards, wishing birthdays, taking polls, etc, these interactions might touch an employee's life in several points that can help employee morale. Many of these services offer free trials, so you can use them and decide if they add any value to your ecosystem.
In addition to employee recognition, providing your employees with comprehensive health insurance rather than individual health insurance through platforms like Healthysure can also have a positive impact on employee satisfaction. By offering affordable and accessible insurance options, companies can help ensure that their employees have access to the care they need to stay healthy and productive. What are you waiting for? Let's discuss your corporate plan 👇
🏥  Insurance
👀 Dental and Vision
💪 Gym memberships
🩺 Health checkups
📞 Doctor tele-consultations
Overall, investing in both employee recognition and comprehensive health insurance coverage can help companies create a positive work environment where employees feel valued and supported.