In recent years, the workspace app market has seen significant growth, with apps like Notion leading the charge. Now, Microsoft has entered the fray with its own collaborative hub, Microsoft Loop, an app they made so you do not get stuck in endless loops of switching apps. But what sets Loop apart is its unique shareable components that can be pasted into Microsoft Teams, Outlook, Word on the web, and Whiteboard, making it a powerful tool for teams working across Office apps.
Additionally, Loop's AI-powered Copilot system, which is powered by ChatGPT, is designed to support multiplayer mode where teams can work together to ask the chatbot questions and manipulate responses in real-time. In this blog, we'll take a closer look at Microsoft Loop and its features and how it stacks up against its competitors, including the popular Notion.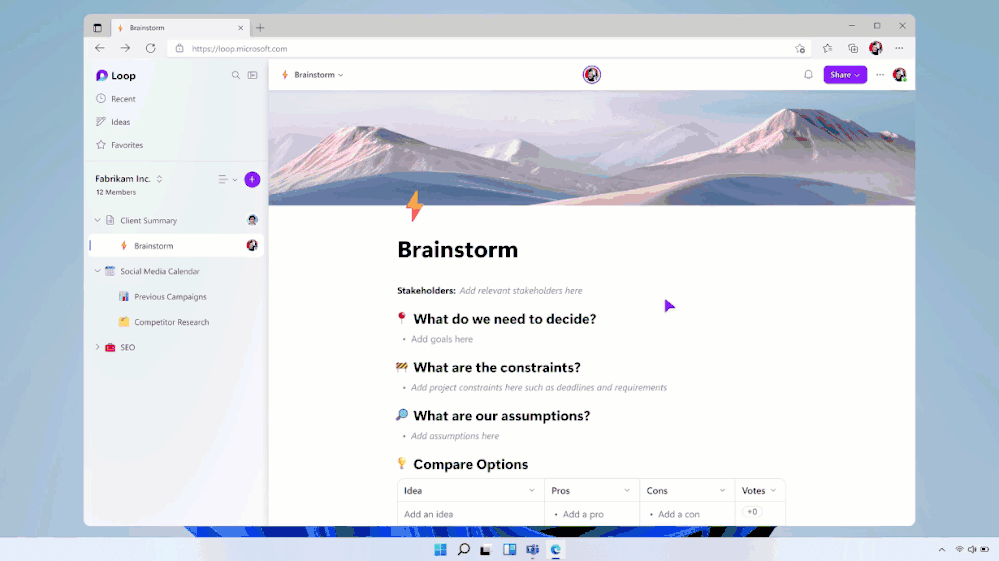 Notion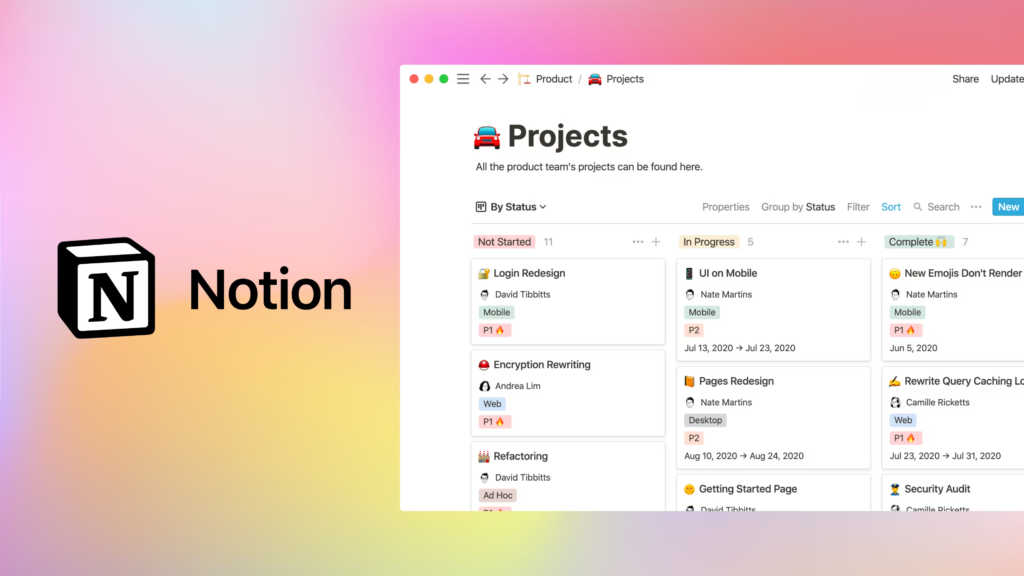 Now we all have used or heard of Notion atleast once. Notion is a workspace app that has taken the market by storm in recent years. Its intuitive and flexible design allows users to create and organize content in a variety of formats, including notes, to-do lists, tables, calendars, and more. Notion is highly customizable, allowing users to create their own templates and layouts, and is often praised for its ease of use and robust feature set.
Additionally, Notion integrates with a wide range of apps and services, making it a versatile tool for personal and professional use. Notion's popularity has grown rapidly, with many businesses adopting it as their primary workspace app, and it has become a leading competitor in the workspace app market.

Microsoft Loop
Microsoft has recently launched Microsoft Loop, a new collaborative hub designed for the hybrid work era. Similar to Notion, Loop allows users to import and organize tasks, projects, and documents in workspaces and pages. However, what sets Loop apart from its competitors is its shareable components that can turn any page into a real-time block of content that can be pasted into Microsoft Teams, Outlook, Word on the web, and Whiteboard.
Loop is designed with collaboration and co-creation in mind, with initial templates to help users get started. The project and task management features are comprehensive, allowing users to create progress trackers, custom labels, and even sync up with Planner and To-Do. Importing and exporting boards from other project management tools like Trello is also possible.
One of the most impressive features of Loop is its collaborative parts. During the pandemic and the increase of hybrid work, Microsoft developed nudges, a way to drop an emoji on a canvas that animates to show appreciation for co-workers or highlight something important in projects. Loop also supports up to 50 people editing a workspace at once, making it suitable for teams of two to 12 people working closely on a project.
Loop components are constantly updated and editable for whoever they're shared with, making it a powerful tool for the future of Office documents. Microsoft has been working for years to transform the tables, graphs, and lists typically found in Office documents into living, collaborative blocks of content that exist anywhere. Microsoft is also privately testing its new Microsoft 365 Copilot system inside Loop, which uses AI-powered suggestions to create a brainstorm or blueprint and supports a multiplayer mode where you and your co-workers can ask the AI chatbot questions and manipulate the responses.
Microsoft is now opening up Loop to public preview, allowing businesses and even consumers to get access to an early version of the software. The mobile app is designed for capturing photos, ideas, and more, and allows users to consume and do light edits on the go. With Loop, Microsoft is making it easier for virtual teams to collaborate and work together seamlessly, even when working from different locations.

Microsoft Loop vs Notion
Microsoft Loop and Notion are both workspace apps designed for team collaboration and project management, but there are a few key differences between the two.

Interfaces
One of the most significant differences is in their user interfaces. While the layout may look very similar, Microsoft Loop's interface looks similar to other Microsoft Office apps, making it intuitive for users who are already familiar with Office 365. In contrast, Notion's interface is highly customizable, allowing users to create their own templates and layouts.

Sharing and Collaboration
Another difference is in their shareable components. While both Loop and Notion offer similar features, Loop's components can be shared across Office 365 apps like Teams and Outlook 365, which is not possible in Notion (atleast not without additional integrations).

AI
Additionally, Microsoft being an active investor in OpenAI, Microsoft Loop has a more robust AI-powered Copilot (similar to the time where Bing was already running on ChatGPT4 before everyone else) system that supports a multiplayer mode where teams can ask the chatbot questions and manipulate responses in real-time. Notion, on the other hand, has a more comprehensive AI-powered system that can analyze meeting notes, create summaries, surface important information, and even generate or rewrite text.

Pricing
Along with it's free version, Notion offers individual plans starting from $8/month and businesss plans starting from $15/month. Assuming that Microsoft loop will be a part of Microsoft 365's individual and business plan, the individual plan may cost just around $5-$6/month and may come with all other offerings of Microsoft 365.

Conclusion
Overall, both Microsoft Loop and Notion are powerful workspace apps that offer unique features and benefits for team collaboration and project management. The choice between the two will ultimately depend on the specific needs and preferences of the user and their team. With a large number of corporates already using microsoft suite, microsoft shoud be able to get a large number of users very quickly. Let's see. how it goes and if it can really benefit employees and increase their productivity!


FAQs

What is Microsoft Loop ?
Microsoft Loop is an innovative platform that facilitates collaborative co-creation among teams, content, and tasks across various tools and devices. It features a highly adaptable and versatile canvas, along with transferable components that can effortlessly move across applications, ensuring seamless synchronization for teams to work, ideate, plan, and create together.

Is Microsoft Loop available now?
Yes, you can access Microsoft Loop's public preview from https://loop.microsoft.com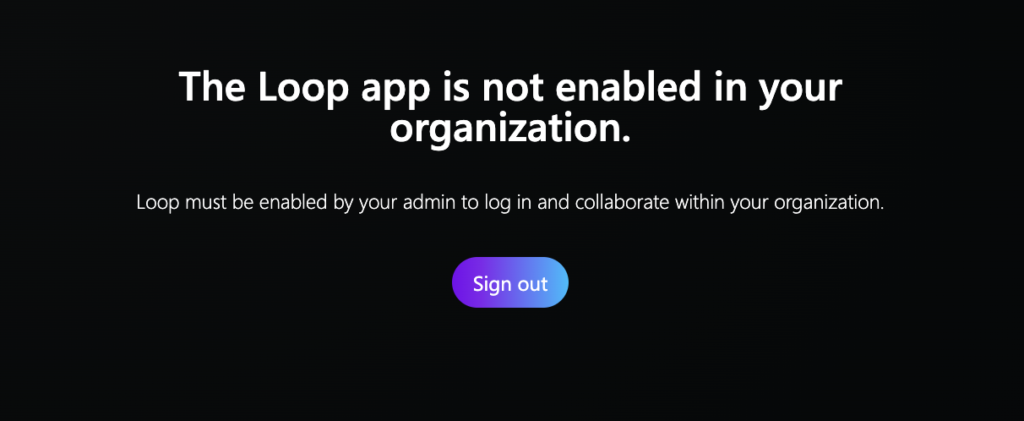 Does Microsoft Loop have an application?
Microsoft loop is available as an webapp and as a mobile app on iOS and Android.