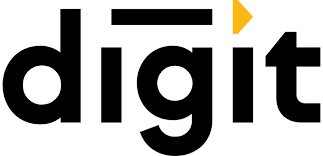 Digit Group Health Insurance o

verview
Digit Insurance entered into the general insurance segment and aims to make insurance simple for all. Digit is  started by Kamesh Goyal and is funded by Fairfax Group, operating in over 30 countries with a long-term value approach towards India's investments.
Digit Insurance, also known as Digit, is an online general insurance company that offers various non-life insurance products that cover your car, bike, travel, home, and mobile. 
Digit insurance is also the first company to become a unicorn in 2021.
The company is based out of Pune and Bengaluru. It follows a unique strategy of multi-channel distribution of insurance plans and the digital platform for resolving claims and customer service.
Digit General Insurance has also introduced its latest brand campaign called "Do the Digit Digit," which showcases Virat Kohli, the brand ambassador.
Digit insurance claims process
With cashless settlement TAT being 2 to 4 hours and reimbursement settlement taking around 10 to 15 days, Digit insurance is one of the best options available.
Paperless reimbursement claims ensure that you do not have any additional troubles even if your hospital is not present in the cashless network list.
Digit has provisions of external and In-house TPAs.
Steps to file a Group Health Insurance claim with Digit : 
For cashless treatment : 

Locate a Digit insurance's Network Hospital 
lease proceed to the nearest hospital within your network and verify your identity by presenting your health insurance ID along with a valid photo ID.
Inform Digit
If you have a planned hospitalization or treatment, please inform Digit at least 72 hours in advance. In case of an emergency, please inform them within 24 hours.
Carry Essential Information
When visiting the network hospital, bring your cashless treatment card, policy number, and member ID for a seamless claims process.
Share Details with Hospital Insurance Desk
Provide your card or policy number and member ID to the hospital's insurance desk for cashless claims assistance.
Complete the Pre-Authorization Form
Accurately fill out the pre-authorization form available at the hospital to initiate the claims process.
Hospital Sends Form to Digit
After you've informed the insurer and completed the form, the hospital sends the pre-authorization form to Digit Insurance Company.
Await Approval or Rejection
Digit team  reviews the claim details and informs both the policyholder and hospital about the approval or rejection of the claim.
Payment Process
If approved, the insurance company directly covers the medical expenses. If rejected, the policyholder must pay the bills themselves.
Remember to follow these steps to ensure a smooth cashless claims experience with your Digit group health insurance plan.
For reimbursement treatment : 

Inform GDigit: For planned hospitalization, please inform Digit at least 48 hours in advance. In the case of a medical emergency, kindly inform us within 48 hours from the date of hospitalization.
Submit Claim Form: Complete and submit the claim form with all required documents, as per your group health insurance plan's terms and conditions.
Document Review: Digit's claim management team will examine the submitted documents and claim form details.
Approval Letter: Upon approval, the policyholder will receive a letter of approval from Digit's claim management team.
Reimbursement: After approval, the reimbursement amount will be processed within 30 days.
Rejection Response: In case of rejection, the insured individual must address any queries raised by the insurer or receive an explanation for the rejection.
Follow these straightforward steps for a hassle-free reimbursement claims process with your Digit group health insurance pla
Documents required a Group Health Insurance claim with Digit insurance : 
Original investigation reports
Final hospital discharge summary
FIR or post-mortem report if happened
Pharmacy bills along with the prescription
Original bills, receipts, and discharge report
Indoor case papers and duly-filled claim form
Original hospital bills and a valid photo ID proof
Treating doctor's report, and original consultation notes
Nature of operation performed and surgeon's bill and receipt
Test reports along with attending doctor's or surgeon's report
Digit x Healthysure advantage
Take the next step towards securing your team's health by choosing Healthysure as your partner for Digit Group Health Insurance solutions.
Contact us now to receive instant, customized Group Health Insurance Quotes that perfectly align with your budget and your employees' needs.
Digit's group health insurance plans
With Digit's corporate insurance plans, you have the option to design a custom insurance plan with : 
At Healthysure, our primary goal is to assist businesses in finding the most suitable Group Health Insurance options for their staff. This is why we take pride in presenting Digit and their customizable Group Health Insurance plans, designed to address the unique requirements of each team.
Digit offers comprehensive Group Health Insurance plans that are not only extensive in coverage but also affordable, starting at just ₹80 per month per life*. With these plans, you can provide exceptional healthcare benefits to your employees without straining your budget.
The pricing of Digit's Group Health Insurance policies is determined by various factors, including team size and coverage options. To obtain accurate Group Health Insurance Quotes tailored to your organization, simply reach out to our knowledgeable team at Healthysure. We will assist you in finding the ideal coverage plan that fits within your budget and meets your employees' needs.
Trust Healthysure as your preferred partner for Digit solutions, and safeguard your team's future with our flexible and cost-effective Group Health Insurance plans. Contact us today to receive instant, personalized Group Health Insurance Quotes and ensure the well-being of your employees.
Digit 🤝 Healthysure advantage
With our collaboration with Digit, Healthysure ensures that you receive the best group health insurance for your corporate.
Digit group health insurance reviews
Kailash Kumar
Amazed!
Amazed by the services from GoDigit, especially thanks to Azhar and Vaishali. They made my claim settlement process easy, covering both pre and post hospitalization. Highly recommend GoDigit for health insurance policies.
Amit Mishra
Great experience
Great experience with Healthysure. Their reimbursement process with GoDigit Health Insurance was seamless and hassle-free, thanks to Mr. Akash Giri (Claim Manager) for his instant support and help.
Minku
Great experience
Had a very good experience with GoDigit and Healthysure team. Their support was commendable and very helpful. Special thanks to Akash (Claims Manager, Healthysure) for his excellent service.
Sandeep
Very fast and smooth experience while going for cashless facility
Very fast and smooth experience while going for cashless facility insurance claim. Claim was approved within 4 hours.
Yogesh
Excellent coordination by Healthysure
The Healthysure team worked in close coordination with Go Digit, ensuring a seamless and hassle-free process, including claim settlement.
Digit customer care details
Digit Group Health Insurance FAQ
Have any other doubts 🤔
Have doubts regarding buying or renewing your corporate health policy? Not sure about your policy benefits? Set-up a free call with our group health insurance policy experts and find the policy that works the best for your team.
Note : Details compiled from various sources. Numbers are for Group Health Insurance plans by Digit insurance.